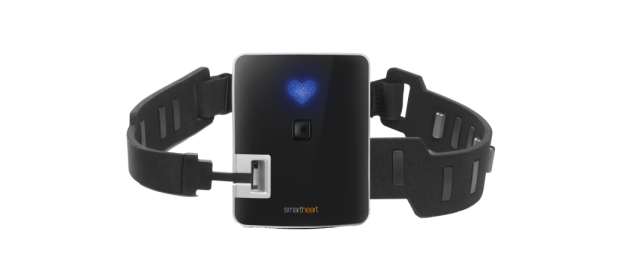 smartheart™
The smartheart™ is the first and only personal mobile 12-lead ECG device on the market that enables the detection of heart attacks. It's also the smallest 12-lead ECG in the world. In fact, it's not much bigger than your smartphone.
With smartheart and a smartphone or tablet (iPhone, iPad, Android, etc.), you can perform a full hospital grade ECG without any need for medical professional assistance, and send it to your physician, clinic or hospital for diagnosis.
It's nice to know that smartheart exists, because your physician cannot be with you or even available to you 24/7, but luckily your personal smartheart – like your smartphone – can be with you round the clock. Your smartphone is useful, but your smartheart is invaluable. It could save your life, or at the very least provide an early warning of a heart attack or other cardiac event.
In practice, this means that smartheart:
Takes a full ECG in just 30 seconds – no gel, no sticky tabs – you simply strap on the belt provided and press the 'start' button
Uses Bluetooth to send the digitally encoded ECG data to your smartphone or tablet, which uses cellular communication to send it on to your physician or hospital for diagnosis
Stores previous ECGs on your smartphone so you have a record with you
The information is stored in a secured way centrally and can be accessed over the internet or the application from anywhere Can be used by anyone, anywhere, anytime – at home, at the office or while travelling
Related Services